She's the cutest little thing and she has come a long way.
A serendipitous story for sure, she was meant to belong to me before I even knew it.
After purchasing her from a stranger, I come to find out a very good friend of mine actually owned this darling little thing just a year prior. I remember her mentioning to me a sweet little trailer she thought I should own. I declined even to look at it, knowing that if I saw it, I would probably want it. At the time, it wasn't financially feasible, and I knew it would just taunt me to see such a thing. Reluctantly I pass on the offer, only for this little trailer to come full circle to me again a year later as a gift from my husband, unaware of our previous connection.
Today I invited that same friend, Amy, over to view Audree's transformation, feeling she should see her first. It was such a treat to reintroduce them. Even more fun, was the original photos Amy just emailed me of how they found Audree ( She used to be named Pinkie).
She has come a long long way in her 52 years. I wish I knew more of her history. Today, her and my next chapter begin……..
This is how Amy found her almost two years ago.
Cute enough for sure, but black paint with neon accents, and rust covering her in places, years of aging in misplaced homes, until we were finally united. Here is sweet little Audree after her extreme makeover!!
Of course, I had to pay hommage to my favorite Happy color, Pink. For afterall, it singly embodies the vibe I want to convey. You know I believe in the color, just as Audrey Hepburn herself said, my favorite quote that dawns my banner
"I believe in Pink. I believe in Kissing……Alot. And I believe that Happy Girls are the prettiest girls"
Well, Audree and I must be looking pretty good right now, because I am very happy….
My husband even said obsessed might be the right word. Spending every free moment immersed in my latest project. The kids were so tired of me making them sit in it! Although, I did get a glowing 4 out of 5 stars on her makeover from my 15 year old!!
Ok, enough rambling, back to her "after" photos!!
Come and step inside with me……
I love pin boards with mementos on them, and I knew I wanted one in Audree for sure to display favorite items and memories…..
Of course I thought I would only do a few spruce ups to her, but the project gained a momentum I couldn't control.
I redid everything from the interior and exterior paint, new lighting, new door knobs and hardware,
and can you say ACCESSORIES???
Many items inside are still original.  Her darling enamel icebox, the 1950's grey speckled flooring and her gorgeous aqua counter tops. Thrown in are fun vintage finds like a bowling bag from the 50's to hold fun beach towels,  chunky ornate frame to hold a vibrant modern print, and some funky Asian fabric found at none other than a vintage trailer flea market! A must visit if you are ever in Georgetown , Washington!
The pink guitar was a gift from a special friend picked up at a church garage sale for a dollar. I added a cute " cowgirl up"  sticker to make it reflect more fancy farmgirlness. (that' s a word I just now made up, I think I like it!)
The banquette, now also covered in white faux ostrich vinyl, is a fun place to gather and hang out with the girls. With colors like these, who wouldn't have fun?
These are the unusual retro modern light fixtures I picked up. I swear my most difficult design choice in the whole project was lighting. I had always heard the experts say lighting was extremely important, and in this particular project, it played a huge role. Not only in the actual illumination of the trailer, but in the design.
Here is  a close up of these unique fixtures.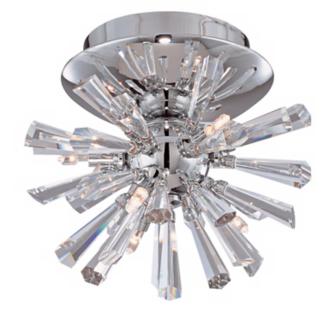 These fixtures weren't cheap, but it was a great investment on the bones of the project. I could save money instead in places like accessories, the pillows came from Marshalls, and were all under $20.
The tabletop accessories came from Walmart, and were all under a dollar each!
Too cute, right??
Aqua flatware, service for 4, $9.99, Marshalls. Mosaic plate charger ( actually a candle holder) Ikea, $9.  1950's beverage pitcher, yard sale find, 25cents. Steal!!!
And now you have been properly introduced to Audree!!!
So here is some very important extra info. One, my dear friend Amy, who once had this trailer and sold it, is actually a vintage trailer dealer. So, if you too, would like to be the lucky owner of one of these vintage gems, you can visit her here:
Second, I would love to introduce you to Audree in person, and she will be making her maiden voyage as her new and improved self, to the Barnhouse Vintage Marketplace, this coming weekend, July 30th in Battleground, Washington. Please visit this link below for more info on the show. There will be other vintage trailers there as well, and many many gorgeous vintage finds!! This sale is a great one, I HIGHLY recommend it!!!
To read part one and two of this story, click here:
xoxoxo, Tiffany